Testimonials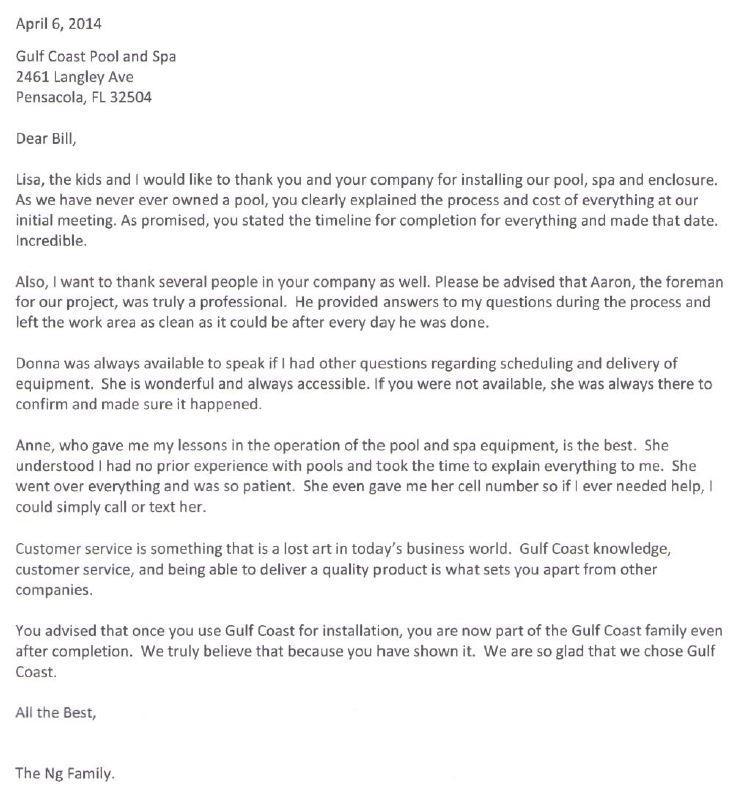 Mr. Bill Hanson

Gulf Coast Pool and Spa

2461 Langley Ave

Pensacola, FL 32504
Dear Mr. Hanson:
I'd like to personally thank you for the outstanding job you and your team of professionals accomplished from start to finish on the pool for our new Florida home.
As you know, we practically built our new home over the internet, given that we were living in Germany and planning our retirement location and house construction from afar. Normally, this would prove exceptionally challenging, as we could not be on-site to discuss pool layout, features and operations. However, your complete attention to our unique needs by rapidly providing documents, photos, advice and proposals through the internet medium made it easy for us to put our complete trust in Gulf Coast Pool and Spa, knowing we would be well cared for.
And indeed, that was clearly the case – our beautiful pool was constructed quickly, and with great care and attention to detail. We received daily progress reports and it was a wonder to behold as Gary and Aaron turned our dreams into reality.
Special thanks go to Donna Ellis for the superb daily (and more!) updates and care she provided. Donna became family to us as she guided us through each step of planning and building the pool, and then provided invaluable advice on system operations – not to mention helping us learn so much about Pensacola as we moved to our retirement destination!
We'd also like to thank Anne, Gary and Solo for the after construction advice and assistance we received as we learned pool cleaning and operations – they and Gulf Coast have been extraordinarily response by helping us understand our sparkling pool and accessories.
In conclusion, the personal attention, dedication, professionalism, skill and teamwork demonstrated by your firm and personnel could not have been better and are much appreciated by Rita and me. Additionally, as a combat veteran, I'd also like to thank you and the Gulf Coast Pool and Spa team for their support of those who were wounded and sacrificed so much for our nation – your commitment to them is reflected in the great work you do both as business and community leaders. Well done!
Sincerely,
Don and Rita Meyer
Good Morning Donna,

I wanted to give you notice that we have sold our home (yeah!!) Our closing date is set for Sept 10th. The last day that we will need your pool services from Ann will be Sept 8th..

Thank you for everything that your company has done for us, we have loved every minute of the pool that Gulf Coast installed and all the services your company has provided. Gulf Coast has been one of the most personal and professional companies that we have dealt with while we were in Pensacola, we have and will always recommend your company and services to anyone in need of a pool or services!!

Thank you again for everything and please know that we will miss your team there!!

Sincerely,
Honz and Kristin Keclik


Dear Joel,

Each of us here at All-Safe POOL SAFETY PRODUCTS is grateful and indebted to the military men and women who so courageously serve our country, risking their own lives to make ours possible.

We acknowledge their extreme sacrifices and we honor them in their commitment to preserving our freedoms and defending our borders.

There is no doubt that we, as well as most of our fellow Americans, pass up opportunities, every day, to give back to those who have given so much.

We admire Gulf Coast Pool and Spa for putting this pool project together and wish to join you in helping them to make it a reality for the Tullers. You can count on our donation of eight sections of removable fence and a self closing gate to be installed, by your company, All-Safe Pool Security, Inc., at no charge.

We hope this layer of child safety enhances their swimming pool enjoyment.

Our thanks to the Dustin Tuller family and to our Veterans and active duty Service Men and Women for the peace of mind they give all Americans every day.

We'll await your order and look forward to following the progress.

Thank you,

Helen H
All-Safe Pool Safety Products